2003-04 BCA History
Meetings
Board Meetings:

September 26, 2003, LifeWay Christian Resources, Nashville, Tennessee
February 23, 2004, LifeWay Christian Resources, Nashville, Tennessee

50th Annual Workshop:

April 15–17, 2004, Westin Hotel, St. Louis, Missouri
Officers
President: Doug Rogers, Alabama State Board of Missions
President-Elect: Jan Kelley, Arkansas Baptist State Convention
Program Vice Presidents: Paul Huse, Missouri Baptist University, and Ruthie Critten, freelance writer
Program Vice President-Elect: Allen Spencer, Colorado General Baptist Convention
Membership Vice President: Randy Cowling, Kansas-Nebraska Convention of Southern Baptists
Missions Vice President: Joe Conway, North American Mission Board
Award Chairman: Cathy Humphrey, Georgia Baptist Developmental Disabilities Ministries
Professional Development Coordinator: Mark Snowden, International Mission Board
Communications Vice President: Sarah Horn, LifeWay Christian Resources
Treasurer: Jerilynn Armstrong, SBC Annuity Board
Historian: R. Chip Turner, FamilyNet/NAMB
Administrative Coordinator: Keith Beene
Activities
Most of the year's activities centered around the celebration of BPRA/BCA's 50th anniversary. Fittingly, the annual workshop was scheduled for April 15—17, 2004, in St. Louis, Missouri, the same city where BPRA's first organizational meeting was held on June 3, 1954. Historian Chip Turner and an anniversary committee were given the responsibility by president Doug Rogers to update BCA's history, building on James Cox's 1953—1987 history book, We've a Story to Tell. To minimize costs, it was decided that the history would be distributed on CD-ROM, rather than in book form — a sure sign of the times! A committed group of officers worked throughout the year in planning for the anniversary workshop. Past presidents and former members were invited to the celebration.
An effort was made to reach out to new members, including communications professionals on church staffs and students — two mostly unreached groups. Also, the process of designing a brochure and new member's packet, something that had been needed for many years, was begun.
Work also continued in the area of creating regional chapters. For the third year, an opportunity to participate in a missions project during the workshop was provided. Each year, participation in that event grows, as members take seriously the opportun ity to use their communication skills and faith in Christ to impact local communities.
BCA's web site, www.baptistcommunicators.org, continued to grow as more professional development resources and links were added.
Workshop
Eighty members of Baptist Communicators Association gathered in St. Louis April 15-17 to celebrate the organization's 50th anniversary.
Historical vignettes were shared throughout the three-day meeting held at the St. Louis Westin next to Busch Stadium, home of the St. Louis Cardinals. Dozens of participants attended a game on Friday evening as a part of the workshop.
A highlight of the annual workshop was the awards banquet on April 15 at the St. Louis Zoo. This year's banquet featured Wilmer C. Fields, the Baptist communicator for whom the organization's awards competition is named.
Other highlights included plenary presentations by Karen Pruente, Midwest managing director for Spaeth Communications, and Larry Brumley, associate vice president for external relations at Baylor University.
The 2004 workshop ended with several members working at the East St. Louis Activity Center. The BCAers worked with children and youth to help them compose a tribute letter to a parent or significant adult in their lives.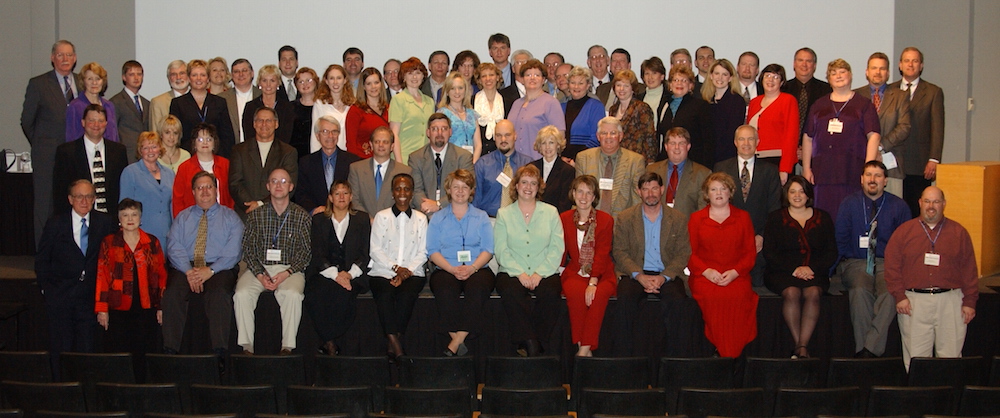 Awards
Arthur S. Davenport Award for exceptional achievement in public relations
Larry Thompson of Bellevue Baptist Church for "Bellevue Centennial Celebration"
Exceptional Achievement Award in Interactive Communications
Communications and Marketing of Cooperative Baptist Fellowship and David Brown of Studio DB for "Global Missions CD"
M.E. Dodd Award for exceptional achievement in audio-visual communications
Ty Wood of Florida Baptist Convention for "Raising The Standard"
Fon H. Scofield Award for exceptional achievement in publication photography
Matt Jones of International Mission Board for "Zagreb"
Frank Burkhalter Award for exceptional achievement in news writing
Greg Warner of Associated Baptist Press for "Jibla Baptist Hospital"
Leonard Holloway Award for exceptional achievement in feature writing
A writer in a restricted area for "House of Life and Hope in Brazil"
Albert McClellan Award for exceptional achievement in print media and design
Publications & Creative Services & Office of Public Relations of Baylor University for "2002-2003 Annual Report"
President's Observations
I considered it a true honor to serve as BCA's president during our 50th anniversary celebration. The occasion provided a focus for our work throughout the year, while also giving us a platform for dreaming about the future.
During the year, I had the privilege of hearing from several past presidents, who told me how much the organization has meant to them. I gained a much greater appreciation of our roots, as I considered the vision held by the 13 men and women who met 50 years ago to start BPRA. The experiences of the year have provided vivid reminders to me of the foundation built by those who came before us, and our responsibility to be faithful in providing for those who will come after us. I was also reminded of the cooperation that exists within BCA.
From the officers, to those that serve on committees, to the members at large, the organization would not exist without the efforts of many committed people. I'm especially indebted to Administrative Assistant Keith Beene, without whom BCA would have difficulty functioning throughout the year. His consistent efforts behind the scenes are invaluable.
As we look ahead to BCA's next 50 years, it's hard to imagine what lies ahead. We have only to consider the changes that have taken place in the last 50 years (from teletype to fax to email!) to be reminded of the opportunities that lay before us. But I am convinced that God will continue to bless our efforts as we seek to use all of the tools of communication that He's given us to reach a lost world for Him.
Here's to another great 50 years!